Seven Women for the MacGregors (1967)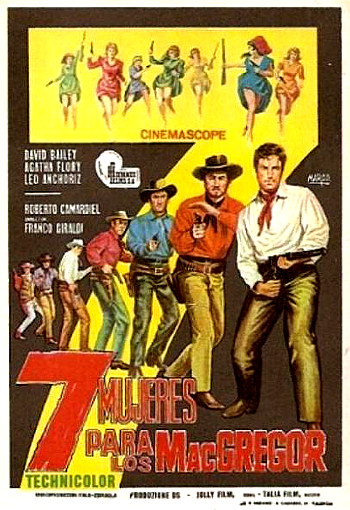 The MacGregor boys are of marrying age and the elder MacGregors are worried gold-digging females will sink their claws into them.
So in the middle of the night — using four separate keys — the elder MacGregors smuggle their gold out of the home and bury it on a hillside nearby.
When bandits attack the next day, the MacGregors wonder why they give up the fight and retreat so quickly. They soon find out: The gold is gone.
Left behind is a note indicating the dirty deed was done by none other than Frank James.
So the seven MacGregor lads ride off to reclaim the family's riches with Gregor (David Bailey) in the lead.
They track down Frank James, but he turns out to be a decripit old man who dreams of a the good ol' days when he rode alongside Jesse. He certainly isn't swimming in stolen gold.
He suspects the thievery is the work of Maldonado (Leo Anchoriz), a Mexican bandit with a habit of blaming his misdeeds on Frank.
So the seven ride off to find Maldonado's hideout. He has an army of men at his side.
Of course, the MacGregors have allies too — a scout named Apache, a dentist named Trevor and his pretty blonde daughter Dolly.
As for Gregor's jealous fiancee Rosita? Well, she might be more of a hindrance than a help. But she sure doesn't lack fighting spirit when it comes to her man.

Review:
Sit back and enjoy the fun, because Giraldi serves up a Western full of humor and action that many Spaghetti directors tried to immitate, only to fall way short of this film.
We have a Scottish family (the MacGregors) merrily feuding with an Irish family (the Donovans).
We have Donovans band of red-headed daugthers, ready to spring into fighting mode whenever the need arises.
We have a merciless villain with a merciless toothache.
We have David Bailey doing a great job in the lead role. We have Agata Flori looking lovely and flying into a jealous rage that leads not only to a catfight, but peril for herself and the man she loves.
Just don't think too long about the plot. That might spoil some of the fun.
Directed by:
Franco Giraldi
Cast:
David Bailey … Gregor McGregor
Agata Flori … Rosita Carson
Leo Anchoriz … Maldonado
Ana Casares … Dolly
Victor Israel … Trevor
Roberto Camardiel … Pa Donovan
Roy Bosier … Apache
George Rigaud … Alastair MacGregor
Harry Cotton … Harold MacGregor
Saturno Cerra … Johnny MacGregor
Hugo Blanco … David MacGregor
Alberto Dell'Acqua … Dick MacGregor
Paolo Magalotti … Kenneth MacGregor
Nazzareno Zamperla … Peter MacGregor
Julio Tabernero … Mark MacGregor
Ann Maria Noe … Mamie MacGregor
Margherita Horowitz … Annie MacGregor
Tito Garcia … Miguel
Antonio Vico … Frank James
Runtime: 94 min.
aka:
Sette donne per i MacGregor
Up the MacGregors!
Score: Ennio Morricone
Memorable lines:
Gregor MacGregor: "Whiskey and glory! Hurrah for the MacGregors!"
Mexican bandit number one to colleague, who's preparing to shoot Johnny MacGregor: "You can't shoot a priest. You'd rot in hell."
Mexican bandit number two: "But this one's a Protestant."
Mexican bandit number one: "Oh, well, alright then."
Johnny MacGregor: "The Lord is my light and my salvation. When the wicked ones shall try to eat of thy flesh, they shall stumble and die. Believe it! The scriptures say it!"
Mexican bandit number one: "Well. we'd better not."
Dolly, the dentist's daughter, as the MacGregors decide to hide in his wagon: "Please, daddy, may I hide inside too?"
Rosita, after Apache makes it clear Gregor is with Dolly: "That blonde, I'm going to scratch her eyes out."
Mrs. MacGregor, watching Rosita ride off in her bloomers: "This is madness."
Harold MacGregor: "She's outwitted us."
Alistair MacGregor: "Wearing just her drawers."
Trivia:
Agata Flori, who plays the female lead here, was married to producer Dario Sabatello and appeared in five Spaghetti films he helped produce.
This was the sequel to Seven Guns for the MacGregors, released a year earlier with Robert Woods in the lead role of Gregor MacGregor.
Tagged with:
Agata Flori
•
Alberto Dee'Acqua
•
ana Casares
•
Anna Maria Noe
•
Antonio Vico
•
David Bailey
•
Ennio Morricone
•
Franco Giraldi
•
George Rigaud
•
Harry Cotton
•
Hugo Blanco
•
Julio Tabernero
•
Leo Anchoriz
•
Margherita Horowitz
•
Nazzareno Zamperla
•
Paolo Magalotti
•
Roberto Camardiel
•
Roy Bosier
•
Saturno Cerra
•
Sette donne per i MacGregor
•
Seven Women for the MacGregors (1967)
•
Tito Garcia
•
Up the MacGregors! (1967)
•
Victor Israel