Stranger on Horseback (1955)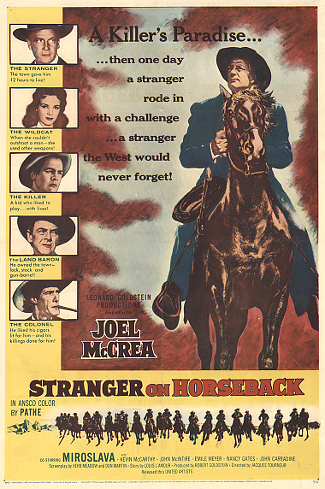 Joel McCrea plays Circuit Judge Rick Thorne, a man intent on bringing law and justice to Western communities run by the gun.
He finds just such a community in the town of Bannerman. Rancher Josiah Bannerman's family owns nearly everything and controls what it doesn't, including the law.
But Thorne's arrival is timely. A man named Morrison has been gunned down, supposedly in self-defense, by the rancher's hot-headed son, Tom.
McCrea is intent on bringing Tom to trial. He has two witnesses willing to testify that it might not have been a clearcut case of self-defense.
Bannerman is just as intent to make sure such a trial never takes place. If there's justice to dispense in his land, he'll do it. And if Thorne can't be bribed, bought, maybe he can be tempted to follow the Bannermans' wishes by Tom's lovely cousin Amy Lee (Miroslava).

Review:
Interesting variant on the cattleman-who-would-be-king theme and the lawman who might bring him down.
It also features a precarious trip across mountain cliffs to a neighboring town where Thorne figures justice might be easier to find. Not to mention an unusual ending.
Nancy Gates has a small role as a girl who hoped to marry Tom, but isn't afraid to testify against him once those hopes are dashed. John Carradine plays the lawyer on Bannerman's payroll.
But the most interesting part belongs to Czechoslovakian beauty Miroslava as a gun-toting, whip-wielding, strong-willed young woman who's having trouble finding a man who can meet her high standards.
She appeared in just a handful of American films. This was one of her last. She committed suicide at age 30 in 1955, the same year this film was released.
Cast:
Joel McCrea … Judge Rick Thorne
Miroslava .. Amy Lee Bannerman
Kevin McCarty …. Tom Bannerman
John McIntire … Josiah Bannerman
John Carradine … Col. Buck Streeter
Nancy Gates … Caroline Webb
Emile Meyer … Sheriff Nat Bell
Robert Cornthwaite … Arnold Hammer
Jaclynne Greene … Paula Morrison
Walter Baldwin … Vince Webb
Emmett Lynn … Barfly
Roy Roberts … Sam Kettering
George Keymas … Bannerman's henchman
Runtime: 66 min.
Memorable lines:
Col. Buck Streeter: "Your honor, folks here are used to running their own business and tending to their own affairs. It's a frontier, sir; the garment of social conscious fits loosely, sir."
Judge Thorne: "I'm here to tighten it up."
Sheriff Bell after backing Thorne's arrest of Tom Bannerman: "This is the first time since I put on this star that I've been able to work at it."
Judge Thorne: "How does it feel?"
Sheriff Bell: "Lonesome."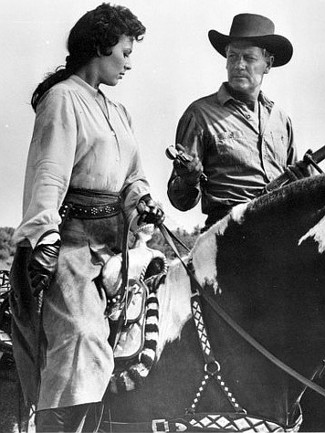 Amy Lee Bannerman: "If he (Josiah) rides in and Tom is still in jail, he will burn this town to the ground."
Judge Thorne: "That's a serious crime. I'd have to arrest him for it."
Amy Lee: "Josiah? First of all, you couldn't. Second, this town is ours."
Judge Thorne: "No, that's a state of mind, Miss Bannerman. The town belongs to the people and laws have been written to protect them."
Josiah Bannerman of Amy Lee: "If I had a son like her, I'd turn up my toes, content."
Josiah Bannerman to the judge: "What's good here, is good cause of me. If anything's bad, that's cause of me. And I'll fix it. My way. You can't come in here, mister, and tell me how to run my land."
Josiah Bannerman of the judge: "We don't want him killed. Just plum discouraged."
Josiah Bannerman, when he realizes the judge has smuggled Tom Bannerman out of jail: "I've been thinking too tame."
Caroline Webb: "Can I have some?"
Tom Bannerman, passing her a canteen: "Sure, go ahead, witness. I left a kiss on it."
Caroline: "Then I'll do without."
Tagged with:
Emile Meyer
•
Emmett Lynn
•
George Keymas
•
Jaclynne Greene
•
Jacques Tourneur
•
Joel McCrea
•
John Carradine
•
John McIntire
•
Kevin McCarty
•
Miroslava
•
Nancy Gates
•
Robert Cornthwaite
•
Roy Roberts
•
Stranger on Horseback (1955)
•
Walter Baldwin