Take Me to Town (1953)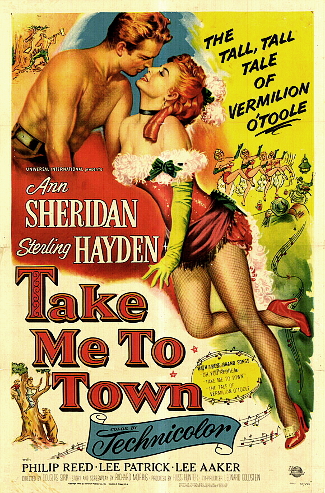 Running from the law, Mae Madison (Ann Sheridan) flees to the town of Timber Line, adopts the name Vermillion O'Toole and takes a job as an entertainer at the Elite Opera House.
Meanwhile, fearing their father (Sterling Hayden) will marry mean spinster Edna Stoffer, Will Hall's three young sons head to Timber Line too. They're in search of a better alternative.
They take one look at Vermillion and decides she's the one for their pa. She scoffs at the notion, until ex-partner Newton Cole (Phillip Read) and Marshal Ed Daggett (Larry Gates) both show up in Timber Line.
You see, Will has left his three sons alone for a week while he's off working at a logging camp, so Vermillion figures there will be no harm in temporarily taking care of them.
Of course, she's in for some shocks. Like the early hour at which they rise each morning. Like the mischief they can get into. But perhaps the biggest surprise of all comes when their big, strong father returns, and turns out to be a minister as well!
Scorned by the other women in the settlement, Vermillion tries her best to fit in and, perhaps, even teach them a thing of two. But what happens when that crooked ex-partner and the marshal both track her down?

Review:
Completely predictable, but relatively entertaining nevertheless. Fortunately, the focus is on Sheridan and her three adopted sons for much of the film, so Sterling Hayden doesn't have to do much but dole out a bit of wisdom about the benefits of life in the country.
Lee Aaker is quite adorable in the role of Hayden's eldest son. The next year he'd begin his role as Cpl. Rusty on the TV hit "The Adventures of Rin Tin Tin." He left acting in the early 1960s to become a carpenter.
Phyllis Stanley plays the woman who has her eye on Hayden until Vermillion shows up; Lee Patrick plays Rose, the woman who owns the opera house where Vermillion performs and helps distract the marshal on her trail.
Once known as the "Oomph Girl," Sheridan appeared in a few more films and landed the lead in "Pistols 'n' Petticoats," a TV Western comedy series in 1966. Then she was diagnosed with cancer. She died in 1967 at age 51.
Cast:
Ann Sheridan … Vermillion O'Toole / Mae Madison
Sterling Hayden … Will Hall
Phillip Reed … Newton Cole
Lee Patrick … Rose
Lee Aaker … Corney Hall
Harvey Grant … Petey Hall
Dusty Henley … Bucket Hall
Larry Gates … Marshal Ed Daggett
Forrest Lewis … Ed Higgins
Phyllis Stanley … Mrs. Edna Stoffer
Dorothy Neumann … Felice Pickettt
Ann Tyrrell … Louise Pickett
Anita Ekberg … Dancehall girl
Fess Parker … Long John
Runtime: 81 min.
Title tune: "The Tale of Vermillion O'Toole"
performed by Dusty Walker
Other songs:
"Oh, You Red-Head" by Ann Sheridan
"Take Me to Town"
"Holy, Holy, Holy! Lord Almighty"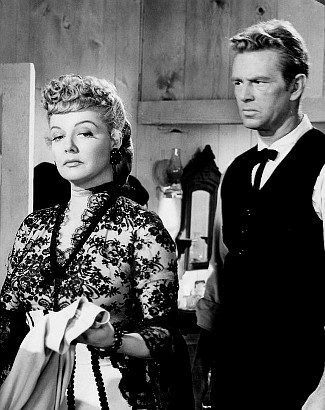 Memorable lines:
Ticket taker: "Say, what color is your hair?"
Mae Madison: "Vermillion."
Ticket taker: "Never heard of such a thing."
Mae: "No? Just one step hotter than a red-head."
Newton Cole: "Vermillion O'Toole? Only you could think up a name as wild as that."
Vermillion O'Toole, as she sneaks out of second window: "Got so I don't use doors at all."
Vermillion O'Toole, when Corney compliments her cooking: "My ma thought of that, God bless her. She always said there were two ways to a man's heart — through her face and his stomach. When I was a little wart like you kids, you couldn't see my face for all the freckles. And I had feet like riverboats. So ma thought it good that I learned how to cook. "
Corney: "She didn't figure on your face turnin' out so good, huh?"
Corney to his dad: "She may have feet like riverboats, but wait til you see her meatpie!"
Male church-goer of Vermillion: "She's got him hexed … We've got to help him … He's fighting the devil wrapped in a maiden's form."
Corney, who complains about how the kids are always sent outside when delicate situations arrive: "Dad, can we come in now? We're full of fresh air."
Corney: "Pa, we was thinkin' — me, Petey and Bucket. It sure would be nice if we could call Ms. Vermillion ma. And it'd be shorter too."
Tagged with:
Anita Eckberg
•
Ann Sheridan
•
Ann Tyrrell
•
Dorothy Neumann
•
Douglas Sisk
•
Dusty Henley
•
Fess Parker
•
Forrest Lewis
•
Harvey Grant
•
Larry Gates
•
Lee Aaker
•
Lee Patrick
•
Phillip Reed
•
Phyllis Stanley
•
Sterling Hayden
•
Take Me to Town (1953)