The Cimarron Kid (1952)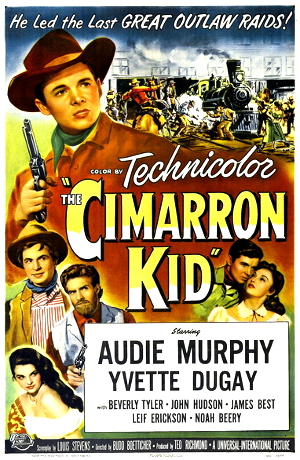 Audie Murphy plays Bill Doolin, a young man paroled from prison for a crime he didn't commit, who then hops on the wrong train.
It's the wrong train because it winds up being robbed by the Doolin-Dalton gang. And, of course, everyone just assumes he's in on the crime.
With nowhere else to turn, he joins the gang for their ill-fated Coffeyville raid. And then, with most of the Daltons dead or captured, he takes over the gang, with the help of Bitter Creek (James Best) and his charming spy of a girlfriend Cimarron Rose (Yvette Duguay).
Beverly Tyler plays Carrie Roberts, the gal Bill falls. She's the daughter of a man who owns a ranch where the gang sometimes takes refuge. Carrie and Bill dream of a ranch in Argentina. But first, Bill wants to cash in on one last job.

Review:
Not one of the better Murphy Westerns, though that final job plays out in a rather unique way. Until then, though, it's just way too predictable.
One of the more interesting roles is that of Red Buck, a gang member who resents and frequently challenges Murphy's leadership. Hugh O'Brian has the part, complete with red hair and beard. He was just three years removed from his renown starring role in the TV series, "The Life and Legend of Wyatt Earp."
There's also a well-filmed escape from ambush by the gang by way of a railroad turn-table.
Cast:
Audie Murphy … Bill Doolin
Beverly Tyler … Carrie Roberts
James Best … Bitter Creek Dalton
Yvette Duguay … Cimarron Rose Adams
John Hudson … Dynamite Dick Dalton
Hugh O'Brian … Red Buck
Roy Roberts … Pat Roberts
Noah Beery Jr. … Bob Dalton
Leif Erickson … Marshal John Sutton
John Hubbard … George Weber
Frank Silvera … Stacey Marshall
Runtime: 84 min.
Memorable lines:
Bob Dalton: "You ain't going on the Coffeyville Raid."
Red Buck: "Since when?"
Bob: "Since now. It's like I said, Red, you don't think very fast. You're tough, but you don't think fast enough."
Red Buck: "Anything else?"
Bob: "Yeah. You don't shoot so good neither."
Bob Dalton: "Kid, this Coffeyville deal is really going to be something big. Double bank holdup in broad daylight."
Bitter Creek: "More money than you ever dreamed of getting your hands on in your whole life."
Bob: "Why they'll be writing ballads about us Daltons after this. It's bigger than anything those James boys ever dreamed up."
Red Buck: "If you don't kill a man who's hunting you when you have a chance, he's gonna kill you some day. It's a superstition I got."
Bill Doolin: "Keep it to yourself."
Carrie to Bill: "The Cimarron Kid. The country's most notorious robber. So clever that you end up here in this cold, filthy cave with a bullet in your side."
Tagged with:
Audie Murphy
•
Beverly Tyler
•
Budd Boetticher
•
Frank Silvera
•
Hugh O'Brian
•
James Best
•
John Hubbard
•
John Hudson
•
Leif Erickson
•
Noah Beery Jr.
•
Roy Roberts
•
The Cimarron Kid (1952)
•
Yvett Duguay