The Cowboy from Brooklyn (1938)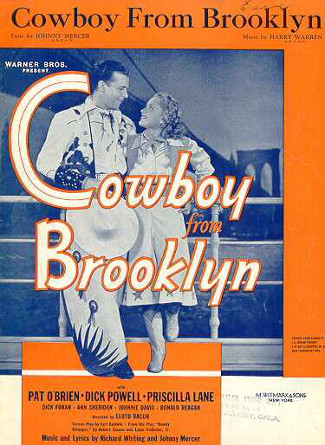 Dick Powell plays Elly Jordan, part of a down-on-their-luck three-man music group headed to California with hopes of making it in movies.
They're booted off their train near a dude ranch, where pretty Jane Hardy (Priscilla Lane) tries to make them feel at home.
Soon, a talent agent named Roy Chadwick shows up, discovers Elly, renames him Wyoming Steve Gibson and hustles him back East when he's billed as a real singing cowboy.
But Elly has one big problem; he's petrified of animals. That made the dude ranch a pretty frightening place.
And it's makes the trip back East even worse when word gets out that he might not really be a cowboy, forcing him to prove otherwise by riding a bronc and wrestling a steer.

Review:
Predictable, but also genuinely funny in spots — like when a doctor tries to hypnotize Steve and winds up hypnotizing the talent agent and his father as well.
Ronald Reagan appears in an early role as Chadwick's assistant.
Cast:
Dick Powell … Elly Jordan
aka Wyoming Steve Gibson
Pat O'Brien … Roy Chadwick
Priscilla Lane … Jane Hardy
Dick Foran … Sam Thorne
Ann Sheridan … Maxine Chadwick
Johnnie Davis … Jeff Hardy
Ronald Reagon … Pat Dunn
Emma Dunn … Ma Hardy
Granville Bates … Pop Hardy
James Stephenson … Professor Landis
Hobert Cavanaugh … Pops Jordan
Elisabeth Risdon … Mrs. Jordan
Dennie Moore … Abby Pitts
Rosella Towne … Panthea Landis
May Boley … Mrs. Krinkenheim
Runtime: 77 min.
Song: "Ride Tenderfoot Ride" at 17 min.
Memorable lines:
Pop Hardy: "Darnit, Ma, I've been walking around with this contraption between my legs for 20 minutes. Now it ain't my fault if I spent 20 years of my life in a saddle and ain't bow-legged."
Jane: "Say, you're late for your lesson."
Elly: "Yeah, a couple chickens had me cornered by the barn down there."
Jane: "Cornered?"
Elly: "Yeah, I was on the way up and come around the barn and there was those darn-gone chickens and they wouldn't let me by."
Jane: "Too bad you don't carry a gun, you could have shot your way out."
Elly: "Now heck Jane, that's nothing to kid a fellow about. You should have seen the dirty looks they were giving me."
Pat: "Now, look Roy, are we gonna die laying down?"
Roy: "Somebody figure out a new way to do it."
Jane, checking out a photo of Elly's new girlfriend: "From the looks of that dress she's wearin', I reckon she oughta be able to cure you of being shy of animals."
Pop Hardy: "You sure came up in the world."
Ma Hardy: "I'd say. This is the top floor."
Tagged with:
Ann Sheridan
•
Dennie Moore
•
Dick Foran
•
Dick Powell
•
Elisabeth Risdon
•
Emma Dunn
•
Granville Bates
•
Hobert Cavanaugh
•
James Stephenson
•
Johnnie Davis
•
Lloyd Bacon
•
May Boley
•
Pat O'Brien
•
Priscilla Lane
•
Ronald Reagan
•
Rosella Towne
•
The Cowboy from Brooklyn (1938)