The Legend of Ben Hall (2016)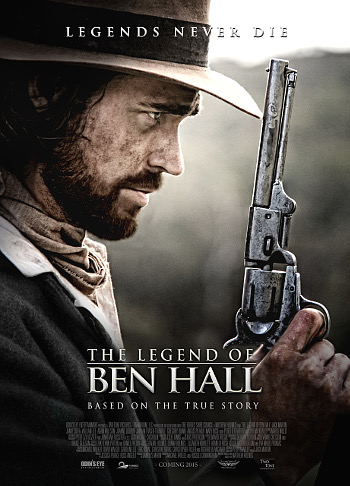 Jack Martin plays Ben Hall in the true story of the Australian bushranger during the last two years of his career as the nation's most sought-after outlaw.
As we join the story, the once-feared Ben Hall Gang has been reduced to Ben and one aging outlaw. And the older man calls it quits after the police nearly nab the duo.
Then Ben crosses paths with former comrade John "Happy Jack" Gilbert (Jamie Coffa), who's eager to see his name in the newpapers again. Ben agrees to join him on the outlaw trail under one condition: They use the money they steal to buy passage to a new life in America.
"Happy Jack" brings on young John Dunn (William Lee) as a third member of the new Ben Hall gang and they hit the trail, pulling off a daring series of robberies while doing their best to abide by Ben's rule not to kill.
But Dunn guns down a police officer during a holdup at a hotel. From that point on, the bounty on the Ben Hall gang starts rising to the point where even acquaintances are tempted to cash in by providing the law with information on their whereabouts.
Meanwhile, Ben frets about his young son Henry, who barely knows his dad. He lives with his mom Biddy (Joanne Dobbin) and her new man Jim Taylor (Nick Barry), a man Ben Hall would like to see dead.

Review:
Beautifully filmed, well-acted and certainly heads and tails above most independent Westerns being made in the 2010s. And, believe it or not, it was a crowd-funded venture. Not to mention the first of four planned movies on famous Australian bushrangers.
Here, Jack Martin is solid as Ben Hall, Jamie Coffa nearly steals the show as "Happy Jack" and Lauren Gimson plays Christina McKinnon, the woman who loves Ben once Biddy turns her back on him.
The film isn't without faults. It meanders a bit. At more than 2 hours, it seems a little long. Much is made of the fact that Ben Hall never killed, but he throws so much lead over the course of the film that he could have taken a dozen or more lives.
All that said, the action scenes come off as far more realistic than most we see in today's Westerns. And it all leads up to a memorable ending.
Directed by:
Matthew Holmes
Cast:
Jack Martin … Ben Hall
Jamie Coffa … John Gilbert
William Lee … John Dunn
Joanne Dobbin … Biddy Hall
Adam Willson … Mike Coneley
Erica Field … Mary Ann Coneley
Callan McAuliffe … Daniel Ryan
Arthur Angel … Edward Morriss
Jordan Fraser-Trumbe … Sub-Inspector Davidson
Gregory Quinn … Sgt. Condell
Angus Pilakui … Billy Dargin
Andy McPhee … Old Man Gordon
Zane Ciarma … Henry Hall
Lauren Grimson … Christina McKinnon
PiaGrace Moon … Peggy Monks
Lauren Gregory … Ellen Monks
Nick Barry … Jim Taylor
John Orcsik … John Kelly
Tom Beaurepaire … Inspector Sanderson
Ben Chishold … Bill Hall
Runtime: 139 min.
Memorable lines:
Ben Hall to prospective gang member John Dunn: "Despite what the papers encourage you to imagine, this life you want is not easy. In fact, most days it's nothing short of hell on eath. One false step, one bad judgment, you could be shot dead."
Ben Hall to John Dunn: "You'll never know true hatred til someone destroys your family."
Ben Hall: "You want the whole country against us Jack? Is that what you want?"
John "Happy Jack" Gilbert: "It already is! And if they're coming for us, I'm taking as many trapps (?) with me as I can."
Ben Hall: "God damn you. The pair of you. You're as mad as you are stupid."
Ben Hall, forcing newcomer Daniel Ryan from the gang: "I'm not taking any more mates to hell with me."
Tagged with:
Adam Wilson
•
Andy McPhee
•
Angus Pilakui
•
Arthur Angel
•
Ben Chishold
•
Callan McAuliffe
•
Erica Field
•
Gregory Quinn
•
Jack Martin
•
Jamie Coffa
•
Joanne Dobbin
•
John Orcsik
•
Jordan Fraser-Trumbe
•
Lauren Gregory
•
Lauren Grimson
•
Matthew Holmes
•
Nick Barry
•
PiaGrace Moon
•
Tm Beaurepaire
•
William Lee
•
Zane Ciarma