The Return of Hallelujah (1972)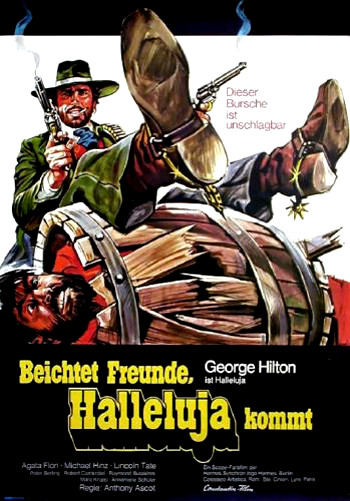 Mexican revoluntionary Gen. Manuel Ramirez (Roberto Camardiel) is in another pickle and he's once again summoned Hallelujah (George Hilton) for help.
He and his forces are cornered in a dilapidated mission by Maximilian's army and it looks like there's no way out. Until Hallelujah arrives with a wagon load of ammunition and uses his unusual bag of tricks to create a way out.
But the real reason Ramirez summons Hallelujah is retrieval of a long-lost Aztec artifact. If Ramirez can get his hands on it, he's sure 10,000 Pueblo Indians will rally to his cause and help him win the revolution.
Hallelujah agrees, for a price, of course. But the Mexican army would like the artifact for the same reason, an alliance with the Indians.
And an American businessman named Phil Ferguson wants to retrieve it for the Mexican government in return for railroad, mining and plantation rights.
Finding the artifact is complicated by the arrival of a kilt-wearing Scotsman named Archie (Lincoln Tate) and his lovely female accomplice Fleurette (Agata Flori). They hatch a scheme to steal jewels from a rich stage passenger.
Then Fleurette finds the artifact, which looks like a piece of junk, but has an opening in the bottom that makes the perfect hiding place for a small bag of jewels. On the run from government forces, she ditches the saddlebag containing the artifact and the jewels, figuring she can retrieve both later.
Naturally, that doesn't work out quite like she planned.

Review:
Another comic romp through the Mexican revolution with many of the same cast members as 1971's "They Call Me Hallelujah," though several assume different roles this time around.
Lots of the fights are cleverly staged, like one in a pawn shop, during which everything from a set of barbells to a suit of armor become weapons, while a parrot provides commentary on the damage being done.
But there are lots of over-the-top antics too. At one point, George Hilton pulls out a golf club, for crying out loud. Other segments — like the one featuring brothers Cain and Abel — come off more like a Three Stooges episode than a Spaghetti Western.
On the plus side, Agata Flori has a much sexier role this time around. During one memorable scene, Fleurette calls out the measurements 34-20-36 while shopowner Sam tries to find a dress that will fit her.
He convinces her to try it on in front of him, but she pulls a top hat down over his eyes before disrobing. "Ah, what you're missing," squawks the aforementioned parrot.
Directed by:
Giuliano Carnimeo
as Anthony Ascott
Cast:
George Hilton … Hallelujah
Lincoln Tate … Archie
Agata Flori … Fleurette
Aldo Barberito … Priest
Michael Hinz … Von Steffen
Peter Berling … Schultz
Roberto Camardiel … Gen. Manuel Ramirez
Raymond Bussieres … Sam
Umberto D'Orsi … Phil Ferguson
Paolo Gozlino … Drake
Nello Pazzafini … Abel
Lars Bloch … Cain
Riccado Garrone … Zagaya
Mara Krupp … Mary
Pasquale Fasciano … Indian chief
Renato Baldini … Gen. Miranda
Runtime: 93 min.
aka:
Il West ti va stretto, amico… è arrivato Alleluja
Score: Stelvio Cipriani
Memorable lines:
Parrot, as Florence disrobes to try on a dress while lecherous shopkeeper Sam tries to pull a hat from over his eyes: "Ah, Sam, what you're missing!"
Mexican soldier, watching Gen. Ramirez and his men rush off, carrying a coffin (which actually contains the kidnapped Indian chief: "Hey, Fritz, what are those fools doing?"
Second soldier: "Could be the corpse is late for his own funeral."
Archie: "My grandfather was right. Slap a woman and you'll never get rid of her."
Ferguson: "I've always said Drake is a moron. Even if you tied something to his back, that jackass would lose it on the way home."
Tagged with:
Agata Flori
•
Aldo Barberito
•
Anthony Ascott
•
George HIlton
•
Giuliano Carnimeo
•
Il West ti va stretto amico... è arrivato Alleluja (1972)
•
Lars Bloch
•
Lincoln Tate
•
Mara Krupp
•
Michael Hinz
•
Nello Passafini
•
Paolo Gozlino
•
Pasquale Fasiano
•
Peter Berling
•
Raymond Bussieres
•
Renato Baldini
•
Riccardo Garrone
•
Roberto Camardiel
•
The Return of Hallelujah (1972)
•
Umberto D'Orsi