The Siege at Red River (1954)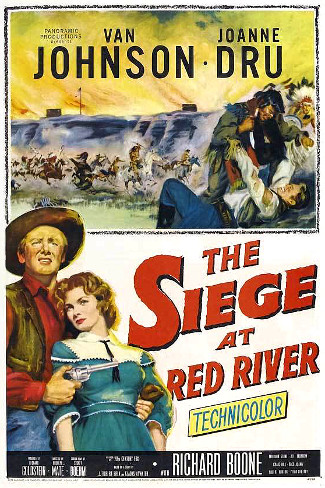 Van Johnson is Capt. James Farraday, a Confederate spy posing as a snake oil salesman.
He masterminds the theft of the Union's secret weapon, a gatling gun, and is trying to smuggle it to the Rebel army in hopes of turning the tide of the war.
Everything goes fine until Farraday and his partner Benjy (Milburn Stone) reach the town of Baxter Springs. There, Farraday falls for a girl, Nora Curtis, the daughter of a Union officer.
The bigger problem is that Union special agent Frank Kelso arrives in town at about the same time. His detective works leads to the death of a shopkeeper, the man who was supposed to inform Farraday of his next stop on the trek West.
Instead, Farraday is forced to turn to gambler Brett Manning (Richard Boone) for help smuggling the gatling out of town. Manning has his own plans. And it has nothing to do helping salvage the war for the South.

Review:
Spirited Western, with a fine performance by Dru, especially during one scene when tales of Farraday's womanizing ways coerces her to drink a tad too much.
That's just one of the touches of humor that makes the film worth watching. Milburn Stone's performance helps as well as he and Van Johnson travel from town to town singing "Tapioca" as a tip-off to Southern agents that they're in town.
Unfortunately, the final battle scene is rather obviously lifted from Buffalo Bill, the 1944 Joel McCrea film, and the subsequent mending of war wounds so quickly comes off as trite.
Future Spaghetti star Craig HIll has a role as a Union officer.
Cast:
Van Johnson … Capt. James Farraday
Joanne Dru … Nora Curtis
Richard Boone … Brett Manning
Milburn Stone … Benjy
Jeff Morrow … Frank Kelso
Craig Hill … Lt. Braden
Rico Alaniz … Chief Yellow Hawk
Robert Burton … Sheriff
Pilar Del Rey … Lukoa
Ferris Tyler … Anderson Smith
John Cliff … Sgt. Jenkins
Runtime: 89 min.
Memorable lines:
Nora: "I've been warned about traveling salesmen."
Farraday: "By who?"
Nora: "Other traveling salesmen."
Manning: "I never thought I'd see the day."
Farraday: "What?"
Manning: "You and a yankee girl."
Farraday: "Imagine. Thing like that could start a war."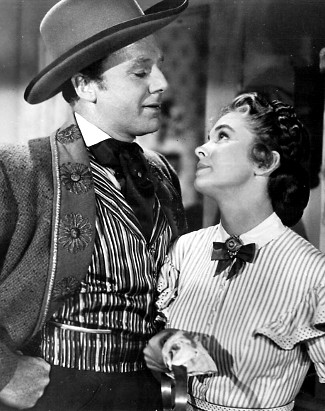 Union soldier: "If you were drafted, why aren't you in the war?"
Farraday: "I am, in a way. I hired a substitute. For $300. A brave fella, I hear. I might even wind up being a war hero."
Farraday: "What part of home are you from?"
Manning, shaking his head no: "The only thing you and me have in common is that we both bleed if we're cut."
Farraday, at Nora's suggestion that he warn Fort Smith of an impending Indian attack: "Where I come from, saving Yankees isn't considered very noble."
Nora: "Can't you think of them just as people?"
Tagged with:
Craig Hill
•
Ferris Tyler
•
Jeff Morrow
•
Joanne Dru
•
John Cliff
•
Milburn Stone
•
Pilar Del Rey
•
Richard Boone
•
Rico Alaniz
•
Robert Burton
•
Rudolph Mate
•
The Siege at Red River (1954)
•
Van Johnson