The Silver Star (1955)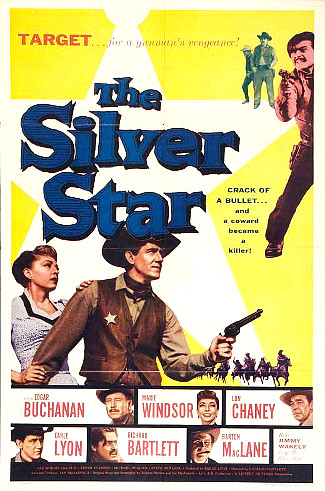 Earle Lyon plays Gregg Leech, who has reluctantly allowed himself to be elected the new sheriff in Boyce.
He almost immediately regrets the decision; his father and grandfather died trying to keep the peace. He wants to settle down with his lady love (Marie Windsor as Karen Childress) and raise a family, not risk his life every day with a gun strapped to his hip.
When three hired killers ride into town, it soon becomes apparent Leech will have to face the trouble without much help from the town's residents. So he begins making plans to flee Boyce with his lady love.
The three gunmen — led by director Richard Bartlett as King Daniels — have been hired by town lawyer John W. Harmon, who wants to bring big-money people to town. Leech is perceived as the leader of an element that doesn't want to see the town change.
It's only when aging former sheriff Bill Dowdy (Edgar Buchanan) straps on a six-gun to do the job the new sheriff won't that Leech is prodded into action.

Review:
Interesting variant on the "High Noon" theme that might have been special with the right director and cast involved. But the right director wasn't Bartlett, a former actor who did most of his work behind the camera for TV. And the right star wasn't Lyon, who appeared in just five films and turns in a most uninspired performances.
As a result, the film lacks the rising tension it needed to make it a success. The climatic gunfight is interesting, and probably more true to life than those in most Westerns as the five men involved play a game of cat and mouse, running for cove at every chance.
But that isn't enough to save a flawed film.
Steve Rowland, son of director Roy, has just his second credited role as Bainy, the one town resident willing to stand alongside Leech as he tracks down the men responsible for the trouble in Boyce.
Cast:
Earle Lyon … Sheriff Gregg Leech
Marie Windsor … Karen Childress
Edgar Buchanan … "Bill" Dowdy
Lon Chaney Jr. … John Harmon
Richard Bartlett … King Daniels
Edith Evanson … Belle Dowdy
Steve Rowland … Bainy
Barton MacLane … Henry Longtree
Morris Ankrum … Charlie Childress
Michael Whalen … Shakespeare
Robert Karnes … Ward Blythe
Tim Graham … Happy
Jill Richards … Stella
Runtime: 73 min.
Title Tune: "The Silver Star"
by Jimmy Wakely
Memorable lines:
Karen Childress: "There's a lot of difference between being a sheriff and a gunman."
Gregg Leech: "Is there? To me, they're one and the same. When a man starts to kill, he has to keep on killing — with the sar or without it. … A dead man doesn't make a good husband or father."
Former Sheriff Dowdy offering advice to young Leech: "Don't let it get you, son. All new sheriffs get a bit remorseful first day out. Hard to make that first arrest … From now on it'll get easier."
King Daniels to former sheriff Dowdy: "I get no money for killing you, old man. If I have to kill for free, it makes me mad."
Karen Childress: "My mother died because my father wouldn't fight for what was theirs. I couldn't stand another cowardly man."
Tagged with:
Barton MacLane
•
Earle Lyon
•
Edgar Buchanan
•
Edith Evanson
•
Jill Richards
•
Jimmy Wakely
•
Marie Windsor
•
Michael Whalen
•
Morris Ankrum
•
Richard Bartlett
•
Robert Karnes
•
Steve Rowland
•
The Silver Star (1955)
•
Tim Graham