Three Crosses Not to Die (1968)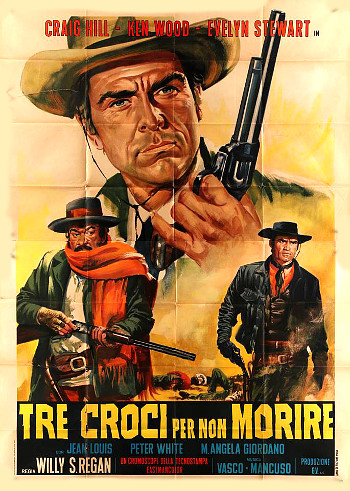 Three men are thrown into prison, then broken out by a priest who's convinced a young man (Ivan Scratuglia as Francisco Ortega) sentenced to hang is innocent of murdering a wealthy landowner and raping his daughter.
The priest is asking the three to clear the young man's name within 10 days, lest he be executed. His father is offering a $30,000 reward if they're successful.
The three include Paco (Franco Cobianchi D'Este), a horse thief; Reno (Giovanni Cianfriglia), a bounty hunter who's killed enough men to fill a town; and Jerry (Craig Hill), a lotharo with a list of sins so long the priest would need a year to write them all down.
They head to Roseville where it quickly becomes clear that snooping into what really happened to Betty Fletcher and her father isn't the healthiest way to spend one's time.
And they quickly discover that one of those opposed to such snooping is mayor / counselor Mulligan, the very man who was supposedly trying to clear Francisco.
Betty can't talk; she's in a shock-induced coma. But another woman named Delores might be of help. While Paco, Reno and Jerry were in jail, Francisco kept repeating her name in his sleep.

Review:
The opening is quite clever. Paco steals a batch of carrots, then uses them to lure someone else's horse into following him. Jerry sneaks into a woman's room at night, telling her it might be their last night together. Then her husband bursts in. And Reno guns down three enemies by tricking them with a phony wounded arm. That's how our heroes wind up in jail.
They wind up being wanna-be heroes because a priest's assistant is jotting down all their misdeeds. The priest himself? He warns the trio that he wouldn't want to face judgment day with their records, a hint that clearing Franciso might make judgment day easier on them.
But it's really the $30,000 that provides their incentive. And this trio must have watched a few Spaghetti Weterns, because they tear the contract into three parts, each keeping one, so they won't be tempted to double cross one another.
It all leads up to an entertaining Spaghetti Western — not a classic, mind you — but one that's entertaining to watch, even if there are some over-the-top moments. Like when Paco, surrounded by gunmen, heaves his gunbelt into the air, then uses his rifle to shoot the shells in said gunbelt so that the bullet fragments blind his attackers.
Dolores turns out to be none other than Ida Galli (Evelyn Stewart), sporting long dark hair this time and running a mill. She slept with the man accused of murder. She slept with the man who framed him. She sleeps with Jerry, one of the man trying to free her ex-lover. But she's deeply offended when the villain of the piece calls her "a Mexican slut."
Directed by:
Sergio Garrone
as Willy S. Regan
Cast:
Craig Hill … Jerry
Ida Galli … Dolores
as Evelyn Stewart
Giovanni Cianfriglia …. Reno
as Ken Wood
Jean Louis … Rod
Franco Cobianchi D'Este …. Paco
as Peter White
Amedeo Timpano … Mayor Mulligan
Ivan Scratuglia … Francisco Ortega
Raffaele Di Mario … Sheriff
Bruno Arie … Brett
Giuseppe Castellano … red bearded henchman
Mariangela Giodano … Betty Fletcher
Vittorio Andrea … Senor Ortega
Arrigo Peri … Padre
Sandro Scarchilli … Juan
Runtime: 97 min.
aka
Tres croci per non morire
No Graves on Boot Hill
Three Crosses of Death
Score: Vasco & Mancuso
Memorable lines:
Sheriff to Jerry, after he's been caught in the bedroom of another man's wife: "Since your sleeping arrangement didn't work out, why don't you try my place. For 30 days."
Jerry: "There's not a female in this whole wide world worth dying for."
Priest: "What you have done, Jerry, would take us a year to put into writing. I would really hate to be the one to judge you on the day of reckoning."
Man in Roseville: "The Ortega case is closed. Forgotten. Another man was here asking questions last week and his nose got a little too long. Had to be cut down. With a bullet."
Rod to Delores: "You're in the same boat as me. And if it sinks, you'll follow me to the bottom."
Tagged with:
Amedeo Timpano
•
Arrigo Peri
•
Bruno Arie
•
Craig Hill
•
Evelyn Stewart
•
Franco Cobianchi d'Este
•
Giovanni Cianfriglia
•
Giuseppe Castellano
•
Ida Galli
•
Ivan Scratuglia
•
Jean Louis
•
Ken Wood
•
Mariangela Giordano
•
No Graves on Boot Hill (1968)
•
Peter White
•
Raffaele Di Mario
•
Sandro Scarchilli
•
Sergio Garrone
•
Three Crosses Not to Die (1968)
•
Three Crosses of Death (1968)
•
Tres croci per non morire (1968)
•
Vittorio Andrea
•
Willy S. Regan