To the Last Man (1933)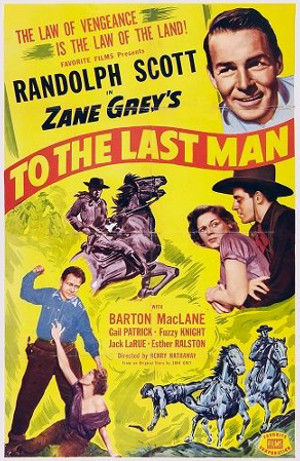 After the Civil War, Mark Hayden (Egon Brecher) heads West to Nevada, determined to outrun the Hayden-Colby feud that has caused blood to be spilled for years back in Kentucky.
But upon completing a 15-year prison sentence for killing Chet Spelvin, Jed Colby (Noah Beery) heads West, too He's determined to wipe out the Hayden clan once and for all with the help of Jim Dags (Jake LaRue), a friend he met in prison.
Caught in the middle is Lynn Hayden (Randolph Scott), who witnessed the murder of his grandpa Chet; and Ellen Colby (Esther Ralston). In fact, they fall for one another before realizing they're on opposite sides of a generations-long feud.
Prodded along by Daggs, Colby's men keep stealing stock and harassing his family until Mark Hayden is convinced he has to take the law into his own hands. Daggs, meanwhile, has his own ideas for Ellen Colby.

Review:
An entertaining early Western featuring Randolph Scott and adapted from a story by Zane Grey, even if the love interest between Lynn Hayden and Ellen Colby comes as little surprise.
Esther Ralston turns in a particularly spirited performance as the tomboyish but quite pretty Ellen. In one of the film's better scenes, she kicks a wrapped gift from Lynn down the mountainside and into a fire pit, only to retrieve it before it burns too badly to be ruined.
Other highlights include a well-filmed rockslide, an attack on the Hayden home and a knock-down, drag-out fight between Ellen and Daggs.
This movie also features uncredited performances by John Carradine and Shirley Temple, unmistakable because of all those curls.
Cast:
Randolph Scott … Lynn Hayden
Esther Ralston … Ellen Colby
Jack LaRue … Jim Daggs
Buster Crabbe … Billy Hayden
Barton MacLane … Neil Stanley
Noah Beery .. Jed Colby
Gail Patrick … Ann Hayden Stanley
Egon Brecher … Mark Hayden
Muriel Kirkland … Molly Hayden
Fuzzy Knight … Jeff Morley
James Eagles … Eli Bruce
Eugenie Besserer … Granny Spelvin
Harlan Knight … Grandpa Chet Spelvin
Jay Ward … Lynn Hayden as a child
John Carradine … Pete Garon
Shirley Temple … Mary Stanley
Runtime: 75 min.
Memorable lines:
Grandpa Spelvin's dying words, about his gun: "It's yours now, Lynn. Don't ever use it, ceptin' on a Colby."
Jed Colby, upon hearing his 15-year prison sentence: "It wasn't murder. It was feuding, pure and simple."
Jed Colby of Mark Hayden: "I'm gonna be stretchin' out his misery the same as he did mine. We're gonna keep workin' on him til he comes gunning for me."
Tagged with:
Barton MacLane
•
Buster Crabbe
•
Egon Brecher
•
Esther Ralston
•
Eugenie Besserer
•
Fuzzy Knight
•
Gail Patrick
•
Harlan Knight
•
Henry Hathaway
•
Jack LaRue
•
James Eagles
•
Jay Ward
•
John Carradine
•
Muriel Kirkland
•
Noah Beery
•
Randolph Scott
•
Shirley Temple
•
To the Last Man (1933)