Traded (2016)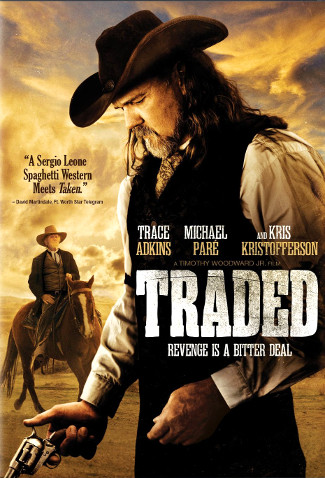 Tragedy strikes the Travis family when young Jake is sent to fetch a jar of honey, winds up being bit by a rattlesnake and dies.
Former gunman Clay Travis (Michael Pare) has lost his only son. His wife Amelia (Constrance Brenneman) is despondent, blaming herself for her son's death because she sent him on the errand.
The result: They become even more protective of their only other child, 17-year-old daughter Lily (Brittany Elizabeth Williams).
So she rebels, running away and buying a stage ticket to Wichita in hopes of auditioning to become one of the Harvey Girls.
But she never makes it to those auditions. She winds up in the hands of men looking for new whores to entertain guests in the saloons of Dodge City.
That prompts Clay straps on his gun belt one more time, determined to rescue Lily before she becomes just another soiled dove.
Along the way, he crosses paths with a philosophical barkeep named Billy (Kris Kristofferson), a flesh peddler / fire captain named Ty Stover (Trace Adkins), womanizer Rig Marlowe, an old flame named Nell and, finally, a whorehouse owner named Lavoie. He runs the French Chataeu and figures to make a mint off Lily's favors.

Review:
"A Sergio Leone Spaghetti Western meets 'Taken,'" says the DVD cover for this film. Wow, talk about wishful thinking.
Okay, the general plot is borrowed from "Taken," the 2008 film starring Liam Neeson as a man desperate to rescue his daughter. But Leone's descendents should sue for slander. This movie is that bad.
It's as though those involved figured they could take a few scowls, add a few snarls, come up with some semi-demented characters, throw in some pretty gruesome violence (some obviously borrowed from past Westerns) and, presto: Classic Western.
Not even close. It'd be better if the entire film was meant as a spoof of Westerns past. Unfortunately, it's not.
After a not too terrible opening, silliness abounds. One of the first signs of trouble: The lecherous ticket clerk as the stage office, whose lips start twitching the minute he sets eyes on pretty young Lily.
The two big names in the cast — Kristofferson and Adkins — aren't on screen for long, though Kris reappears near the end in an absolutely ridiculous plot twist.
If anyone in the cast fares well in this mess, it's Marie Oldebourge as Girl, a young woman so homely she's been told by her sexually abusive stepfather that she doesn't deserve a name.
But this is a film best avoided, unless you're desperate to see Kristofferson in a Western at age 80.
Directed by:
Timothy Woodward Jr.
Cast:
Michael Pare … Clay Travis
Brittany Elizabeth Williams … Lily Travis
Constance Brenneman … Amelia Travis
Kris Kristofferson … Billy
Trace Adkins … Ty Stover
Tom Sizemore … Lavoie
Martin Kove … Cavendish
Quinton Aaron … Silas
Natlia Cigliuti … Nell
Joshua LaBar … Rig Marlowe
Kaiwi Lyman-Mersereau .. Jed
Michael John Long … Kipp
Kelly Kristofferson … Claire
Hunter Fischer … Jake Travis
Marie Oldenbourge … Girl
Runtime: 98 min.
Memorable lines:
Clay: "Any idea where I can find him (Rig Marlowe)?"
Billy: "Anywhere he can put his hands on a pretty girl. Or a deck of cards."
Billy, to Clay: "There's a battle in every man. Two worlds that exist inside each of us. One's evil and anger; the other's love and hope. Which one wins? The one you feed. Which one you gonna feed, hoss?"
Clay: "Some men choose to cast themselves in a brighter light before they meet their maker."
Nell: "Even you are no match for Lavoie."
Clay: "Samuel Colt's been known to make all men equal."
Nell: "If he's got your daughter, she'll never be the same little girl you remember. My advice to you: Go home."
Lavoie to Clay: "You kill my family, I will have my pound of flesh. Now I could put a bullet in your f—ing head right now, but why do that? Why not have some fun?"
Tagged with:
Brittany Elizabeth Williams
•
Constance Brenneman
•
Hunter Fischer
•
Joshua LaBar
•
Kaiwi Lyman-Mersereau
•
Kelly Kristofferson
•
Kris Kristofferson
•
Marie Oldenbourge
•
Martin Kove
•
Michael John Long
•
Michael Pare
•
Natlia Cigliuti
•
Quinton Aaron
•
Timothy Woodward Jr.
•
Tom Sizemore
•
Trace Adkins
•
Traded (2016)