Tribute to a Bad Man (1956)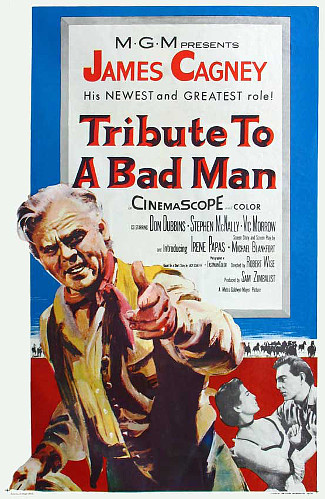 James Cagney is Jeremy Rodock, a tough-as-steel, no-nonsense horse rancher who controls his valley.
He makes his own law, and when someone steals from him, he tracks them down and hangs them, no questions asked.
Don Dubbins is Steve Miller, the Easterner who rides into the valley and rescues Rodock when he's pinned down by two rustlers.
Rodock returns the favor by giving Miller a job. Problem is, the young man almost instantly falls for Jocasta Constantine, a former dance hall girl Rodock's taken in.
Rodock loves her; she's quite fond of him, too, except for when he get hanging fever.
Being the only female around, she attracts quite a bit of attention. McNulty, Rodock's top hand, gets fired for flirting with her.
Plotting revenge, he steals several of Rodock's mares and foals, then cripples the mares so they can't run off.
As usual, Rodock sets out on the trail of the rustlers. This bout of hanging fever might push young Steve Miller and Jocasta out of his life forever.

Review:
During a career that basically spanned four decades, James Cagney saddled up just three times. His most well-known Western is likely 1939's "The Oklahoma Kid," opposite Humphrey Bogart. But the two Cagney oaters that should be on Western fans must-see list are the two he made in the 1950s — this film and 1955's "Run for Cover."
In each, Cagney takes a young man under his wings. This time around, it's Don Dubbins as Steve Miller, a young Pennsylvanian who doesn't know the first thing about raising horses, but likes the idea of the romantic West, minus the violence.
Then there's cigarette-smoking Jocasta Constantine, who comes off much more realistic than most former saloon girls we meet in 1950s Westerns. She knows she took the easy way out once she immigrated to America with her family. Like Miller, she admires Jeremy Rodock, loves him even, except when he's dishing out Rodock law.
They make for an unlikely love triangle with an unlikely outcome. And over the course of the film, Director Robert Wise once again reminds us that a Western doesn't have to be chock full of shootouts, stampedes, barroom brawls and horse chases to be entertaining.
Cast:
James Cagney … Jeremy Rodock
Don Dubbins … Steve Miller
Stephen McNally … McNulty
Irene Pappas … Jocasta Constantine
Vic Morrow … Lars Peterson
James Griffith … Barjack
Onslow Stevens … Hearn
Lee Van Cleef … Fat Jones
Peter Chong … Cooky
Royal Dano … Abe
Chubby Johnson … Baldy
Jeanette Nolan … Mrs. L.A. Peterson
James Bell … L.A. Peterson
Runtime: 95 min.
Memorable lines:
Jeremy Rodock, as Steve Miller extracts a bullet from his back: "Don't you keel over on me, you Pennsylvania egg sucker."
Jeremy Rodock: "Let one buzzard live, and he'll pick you clean."
Fat Jones, to Steve as he moves into the bunkhouse: "Say, friend… You don't just happen to have one of them new mail order catalogues?"
Steve Miller: "No, I ain't."
Jones, tossing a knife in frustration: "Feller told me they had pictures in them this year – women in corsets."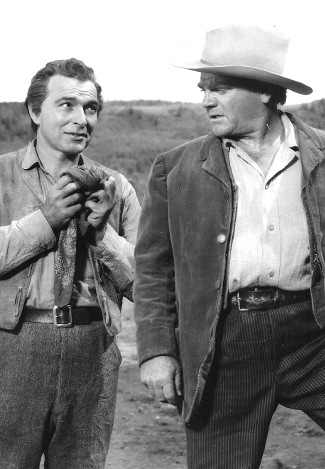 Jeremy Rodock: "I ain't got you figured yet, McNulty. You act like a man with a lot of ideas. All of them second-rate. And not one honorable."
McNulty: "Correct."
Jocasta Constantine: "I'd lend you more (money), if you would use the money to go back home."
Steve Miller: "Go home? Why?"
Jocasta: "Steve, we've only talked a few times since you came here. But I know this about you. You are gentle. You haven't been used, and made hard. This is not your kind of life. Look at the men in the bunkhouse: Baldy, and Fat Jones, and Abe. Never a chance for a family, or a home. In ten years, you're gonna' be like them – a "nobody" on a horse. That's what a wrangler is: a "nobody" on a horse. With bad teeth, broken bones, double hernia, and lice."
Jeremy Rodock: "It's fear keeps men honest. And with that hanging today, I laid fear like a fence 10 feet high around my property."
Jeremy Rodock to Steve: "A fella doesn't die of a broken heart from his first love, only from his last."
Steve Miller, as Rodock marches three horse thieves, shoeless, to a nearby town: "This ain't punishment, Mr. Rodock. It's revenge. It ain't human."
Jeremy Rodock: "I'm sorry you're so hard, boy."
Lars Peterson: "I learned from you."
Rodock: "Then I'm sorry for both of us."
Tagged with:
Chubby Johnson
•
Don Dubbins
•
Irene Pappas
•
James Bell
•
James Cagney
•
James Griffith
•
Jeanette Nolan
•
Lee Van Cleef
•
Onslow Stevens
•
Peter Chong
•
Robert Wise
•
Royal Dano
•
Stephen McNally
•
Tribute to a Bad Man (1956)
•
Vic Morrow