Western World (2017)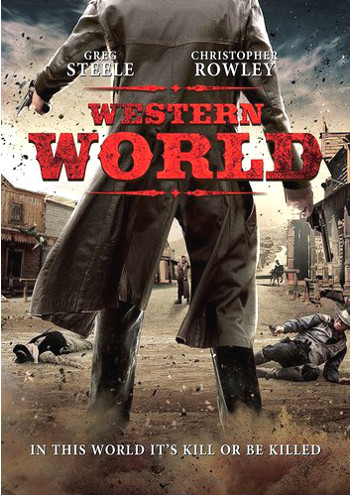 A man is shot and killed in Henry Mannors' hotel in the town of Dogwood Pass. When Sheriff Tom Ramey (Darrell P. Miller) shows up to investigate, he finds a young man named Danny Holt (Justin Rose) holding a recently fired Colt pistol.
Pretty Camille Tammery (Amanda Miller) fills in the blanks. She tells the town leaders she was paying Danny for doing an errand for her when her estranged husband George burst into the room and attacked her in a jealous rage. Danny was forced to shoot him dead.
Danny is the town bastard; the sheriff had taken him under his wing. So he's not thrilled to have Danny locked up on a charge of murder. But something else about the case is nagging the sheriff. He's not sure what, but something just doesn't add up. And Danny, smitten with Camille, isn't talking.
U.S. Marshal Moses White (Christopher Rowley) shows up and soon uncovers the what, beginning with the fact that Camille Tammery isn't the grieving widow she's pretending to be.
Then again, just about everyone of power in this little Western town has a dirty secret that comes out during the course of the investigation. That includes the sheriff. Turns out the young man behind bars is his illegitimate son.

Review:
Oh, my. In the opening scene, an overweight cowboy rides into town and gets his foot caught as he tries to swing out of the saddle. It's an apt beginning for this ultra-low budget Western.
As a community theater production, this might work out just fine. As a DVD being passed off as a feature-length movie — and trying to capitalize on the popularity of HBO's Westworld series with a very similar name — it's an amateurish mess best avoided.
For most of the film, the town mayor, doctor, hotel owner, sheriff, and "grieving" widow stand around telling their versions of what happened as U.S. Marshal White tries to get to the truth. That occurs in a cheap town jail set barely big enough to hold all the main characters.
By the 55-minute mark, the marshal has the two supposedly guilty parties locked up in jail.
Yet the cameras unmercifully continue to roll, leading up to the film's lone shootout. On one side, there's White and a fellow U.S. marshal; on the other, a crooked saloon owner named Harlan Pritz and his bartender. The sheriff is caught in the middle.
That said, Jason Podplesky, playing the saloon owner, is the one actor in the film who attacks his part with a sense of gusto. His performance and a few funny lines, most coming from Amanda Miller's devious saloon girl turned schemer, are the film's highlights.
Directed by:
Lana Reed
Cast:
Darrell P. Miller … Sheriff Tom Ramey
Justin Rose … Danny Holt
Amanda Miller … Camille Tammery / Lucy Silver
Christopher Rowley … U.S. Marshal Moses White
Dennis Craig Hensley … Barrell Top Dealer
Greg Steele … Mayor Ambrose Taylor
Brian Spangler … U.S. Marshal Wade Loveless
Ramsey Stoneburnger … Clara
David Gaylor … Dr. Caleb Moss
David Moak … Henry Mannors
Clay Depew … Roman Pearl , the undertaker
Jason Podplesky … Harlan Pritz
Runtime: 78 min.
Memorable lines:
Camille Tammery: "He's my husband."
Dr. Caleb Moss, examining the man shot in her hotel room: "Well, my condolences, Mrs. Tammery. He's a dead husband now."
Camille Tammery: "Must you men argue about names. My husband is dead, after all. And I would like to see some sort resolution before old age dictates that I join him."
Camille Tammery: "You do remember that I'm a grieving widow?"
U.S. Marshal White: "Well, a widow anyway."
Roman Pearl, the undertaker, admiring Camille: "She's so …
Camille Tammery: "Alive? You probably don't see much of that."
Tagged with:
Amanda Miller
•
Brian Spangler
•
Christopher Rowley
•
Clay Depew
•
Darrell P. Miller
•
David Gaylor
•
David Moak
•
Dennis Craig Hensley
•
Greg Steele
•
Jason Podplesky
•
Justin Rose
•
Lana Reed
•
Western World (2017)