Will Bill Hickok: Swift Justice (2016)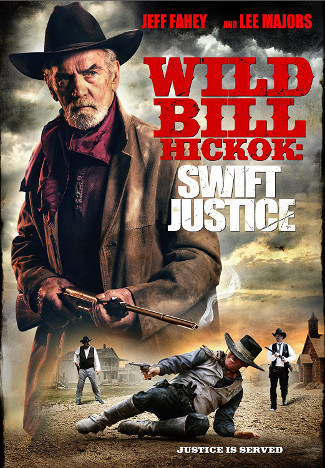 Mike Mayhall plays Wild Bill Hickok, sheriff of a small town trying to prevent another shootout like the one he was involved in as a lawman in Springfield.
During that encounter with a gang of outlaws, he accidentally shot a longtime friend and former lawman, an incident that caused him to start drinking and that still haunts him.
Then the two outlaws who escaped that day — the Roby brothers — ride into his new town. He and a young deputy named Cutty face them down. One Roby brother is killed; Marcus Roby gets away.
But he'll be back. Wild Bill knows he'll be back. And he's likely to come guns blazing and with lots of help.
Complicating matters is a crooked town boss named Toggle, a pretty saloon girl named Malena that Bill has fallen for and Cutty, a deputy who's none too sure of himself.

Review:
A well-intentioned film that can't overcome a Z-grade budget, a script that too often dips into silliness and a finished product that comes off like a bunch of adults playing cowboy.
Jeff Fahey and Lee Majors get top billing. The former is a lawman riding around the countryside in a subplot that never develops; the latter is telling the story as a narrator of sorts to his grandson.
The best thing about the film is Leticia Jimenez, who looks quite alluring as the saloon girl/whore who apparently lets her customers set their own prices.
The worst might be Patrick A. McCall as evil town boss Toggle, who specializes in barking ridiculous orders and is having his own town's provisions stolen so they can be diverted for an opportunity elsewhere.
But he's going to let the supply of bullets get through. He figures Bill might need them to defend the town.
Directed by:
Dan Garcia
Cast:
Mike Mayhall … Bill
Leticia Jimenez … Malena
Matthew Ziff … Cutty
Jaimie Steck … Clarissa
Rob Mello … Marcus Roby
Tony Senzamici … Raymond
Creighton Long … Young Sammy
John John Humphries … Young boy
Terry Smith … Old Man Terius
Patrick A. McCall … Toggle
Jared Allen … Indian chief
Jeff Fahey … Cole
Martin Kove … Rayord
Caden Clark … Jimmy Hickock
Lee Majors … Grandpa Hickok
Jerry Burriss … Carlton
Less McDowell … Crate
Runtime: 77 min.
Memorable lines:
Narrator: "It was a crazy turn of events that started your great grandfather down the road to becoming a world famous gunfighter."
Young boy: "Was it a pack of wild Indians? Was it a big army?"
Narrator: "In time, son, you'll find it's not always an army you're fighting outside in the world, but many times it's an army inside yourself."
Toggle's partner: "Pass the water, please."
Toggle: "I think you've had enough water."
Toggle's partner: "Excuse me?"
Toggle: "Train was robbed, Our provisions were stolen."
Toggle's partner, asking about a incident 10 years earlier in which Toggle killed a Congressman who was fooling around with Toggle's wife: "Did you love her that much?"
Toggle: "I couldn't stand the woman. I tried to poison her six times. Damn woman had a cast-iron stomach. It's was the principle of the thing."
Toggle's partner, after enjoying Malena's favors: "How much do I owe you?"
Malena: "I don't know. Surprise me."
Tagged with:
Caden Clark
•
Creighton Long
•
Dan Garcia
•
Jaimie Steck
•
Jared Allen
•
Jeff Fahey
•
Jerry Burriss
•
John John Humphries
•
Lee Majors
•
Less McDowell
•
Leticia Jimenez
•
Martin Kove
•
Matthew Ziff
•
Patrick A. McCall
•
Rob Mello
•
Terry Smith
•
Tony Senzamici
•
Wild Bill Hickok -- Swift Justice (2016)