Yellow Hair and the Fortress of Gold (1984)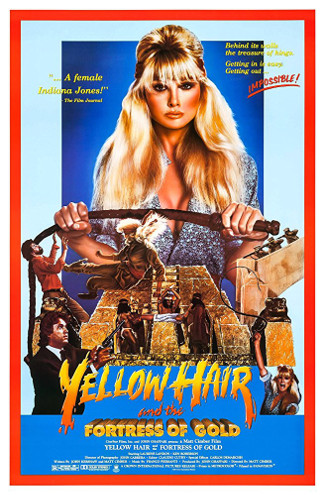 Rumors of a cave full of Mayan gold as causing all sort of problems south of the border.
The Pecos Kid (Ken Roberson) has swiped a gold nugget and a horn that's supposed to be a key to finding the gold from an elderly Apache woman named Grey Cloud.
Yellow Hair (Laurene Landon) is Grey Cloud's half-breed daughter and a longtime friend of the Pecos Kid. She sets out to retrieve the nugget and the horn.
And when she does, she finds Pecos sitting in the jail of a Mexican officer named Torres. Turns out he's heard of the gold as well and wants it for himself.
And he has a mute henchman named Flores and his band of ruffians to enforce his will.
The ever-resourceful Yellow Hair frees Pecos, recovers the nugget and the horn.
Then Yellow Hair learns a long-hidden truth. Grey Cloud really isn't her mother. She's the daughter of a Tulapan Indian priestess and her white lover from Texas, a man the Indians considered a god because of his yellow hair.

Review:
A camp film done in the style of the old Western serials that doesn't take itself too seriously and certainly features a lovely leading lady in Landon.
It's also surprisingly violent, given the Tulapans habit of beheading, torturing and cutting the hearts out of their enemies.
And at one point, when they have Yellow Hair and the Pecos Kid surrounded, they toss sagebrush filled with rattlesnakes down on them.
There are also a couple of plot twists you probably won't see coming. Just don't sit down thinking you're going to take the film seriously.
But, then again, the title is a good tip-off in that respect, right?
This marked the second teaming of director Matt Cimber and Landon. They worked together on another low-budget adventure film, "Hundra," released a year earlier.
Directed by:
Matt Cimber
Cast:
Laurene Landon … Yellow Hair
Ken Roberson … Pecos Kid
Cihangir Gaffari … Shayowteewah
Luis Lorenzo … Col. Torres
Claudia Gravy … Grey Cloud
Aldo Sambrell … Flores
Ramior Oliveros … Tortuga
Suzannah Woodside … Rainbow
Eduardo Fajardo … Man-Who-Knows
Mario De Abros … Flores' deputy
Runtime: 102 min.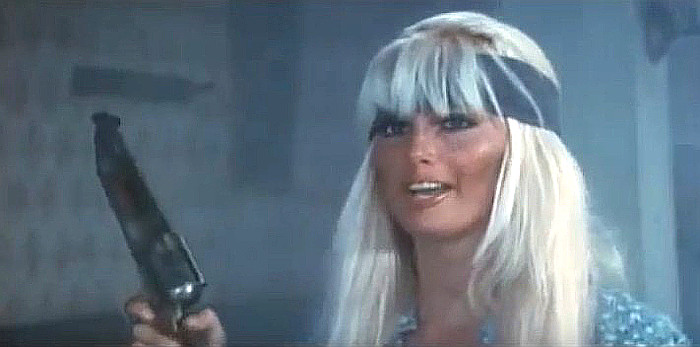 Memorable lines:
Pecos Kid, as Grey Cloud is buried: "That Flores is a mean one. I'm gonna make him pay for this."
Yellow Hair: "No! Only Apache blood can take revenge."
Yellow Hair to Tortuga: "Mister, either you hand over that nugget, or they're going to be shipping you out of here with no place to go but hell."
Pecos Kid: "Yellow, what are you doin'?"
Yellow Hair: "Drying off."
Pecos: "I can see that. Problem is, you're naked while you're doin' it."
Yellow Hair: "How come you're complaining. When you were 13 and I was 10, all you did was try to take my clothes off."
Pecos: "Yeh, but back then, when you were whippin' us at everything, Blue Eagle and I wanted to prove you were really a boy."
Yellow Hair: "You had the gold, Kid, why'd you come back?"
Pecos Kid: "They were going to cut your heart out and find out you ain't got one."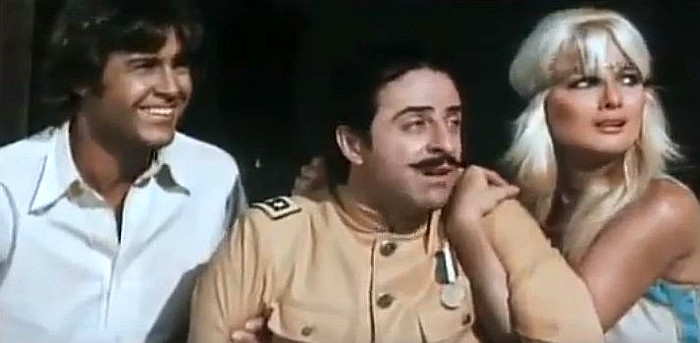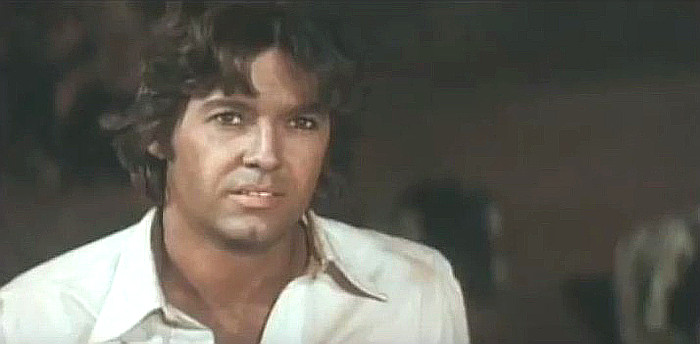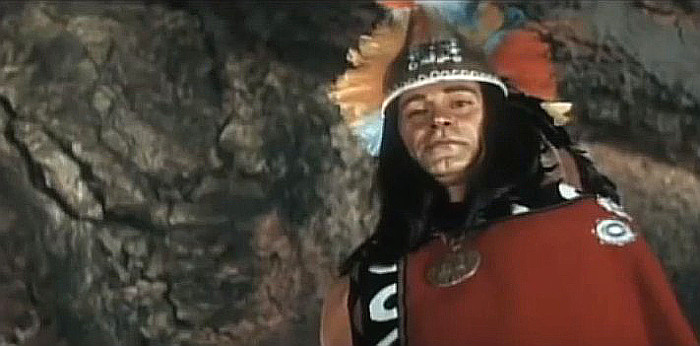 Tagged with:
Aldo Sambrell
•
Cihangir Gaffari
•
Claudia Gravy
•
Eduardo Fajardo
•
Ken Roberson
•
Laurene Landon
•
Luis Lorenzo
•
Mario De Abros
•
Matt Cimber
•
Ramior Oliveros
•
Suzannah Woodside
•
Yelllow Hair and the Fortress of Gold (1984)