Fort Apache (1948)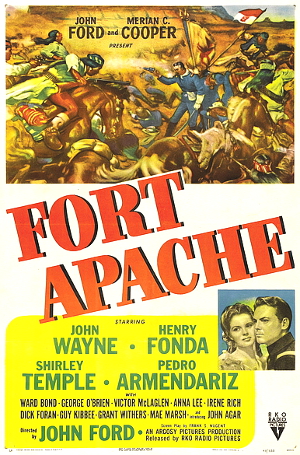 Henry Fonda is Lt. Col. Owen Thursday, a former general in the Union Army during the Civil War who feels he's been shoved aside by being assigned to command Fort Apache on the southwest frontier.
But he's determined to whip his command into shape, though Capt. Kirby York (John Wayne), Capt. Sam Collingwood (George O'Brien) and Sgt. Maj. Michael O'Rourke (Ward Bond) seem to have things well in hand.
York also has a firm grasp of the Indian situation. Seems Apache Chief Cochise agreed to live peacefully on a reservation. Until the government sent in a crooked Indian agent named Meachum, who sells them cheap booze, disrespects their women and shortchanges them on their beef rations.
Now Cochise has taken most of his band into Mexico, though raiding parties remain north of the border. But the Apache chief trusts Capt. York, and Thursday plans to use that trust to trick the Apache into crossing back into U.S. territory.
Meanwhile, 2nd Lt. Michael Shannon O'Rourke (John Agar) has also arrived at the post, fresh from West Point. Yep, he's Sgt. Maj. Michael O'Rourke's son. And he immediately catches the eye of Owen Thursday's pretty young daughter Philadelphia (Shirley Temple). And vice versa.
In fact, they're out riding together when the lieutenant finds two dead troopers, a sign the Apache have returned to the warpath. After that, Thursday's determined to keep the lieutenant and his daughter apart. And restore glory to his name by capturing Cochise and quelling the Apache uprising.

Review:
The first and best of director John Ford's so-called cavalry trilogy — followed by "She Wore a Yellow Ribbon" and "Rio Grande." In fact, it's one of the finest cavalry vs. Indian Westerns you'll find.
The casting of good-guy Fonda in the role of the glory-hunting cavalry officer works wonderfully. He plays a General Custer type character while it's Wayne who pleads for fairness and caution when dealing with the Apache.
The cast also include lots of faces familiar whenever you're watching a Ford Western, with Bond and Victor McLaglen playing tough sergeants who help keep the young recruits in line.
Shirley Temple was 19 and newly married to John Agar when she made this film. He plays her love interest; it marked his film debut.
The former child star is adorable as Thursday's coquettish daughter. But she would make just four more films, all the following year.
Cast:
John Wayne … Capt. Kirby York
Henry Fonda … Lt. Col. Owen Thursday
Shirley Temple … Philadelphia Thursday
John Agar … 2nd Lt. Michael Shannon O'Rourke
Pedro Armendariz … Sgt. Beaufort
Ward Bond … Sgt. Maj. Michael O'Rourke
George O'Brien … Capt. Sam Collingwood
Victor McLaglen … Sgt. Festus Mulcahy
Dick Foran … Sgt. Quincannon
Guy Kibbee … Capt. Dr. Wilkens
Jack Pennick … Sgt. Daniel Shattuck
Ray Hyke … Lt. Gates
Anna Lee … Mrs. Emily Collingwood
Irene Rich … Mrs. Mary O'Rourke
Miquel Inclan … Cochise
Grant Withers … Silas Meachum
Movita … Guadalupe
Mary Gordon … Ma
Mae Marsh … Mrs. Gates
Hank Worden … Cavalry trooper
Philip Kieffer … Cavalry trooper
Runtime: 125 min.
Memorable lines:
Lt. Col. Owen Thursday, on his way to Fort Apache: "What a country — 40 miles from mudhole to mudhole. Mule Creek. Dead Man's Squaw. Schmidt's Wells, Hangman's Flats, Haciampa. And at the end of the rainbow — Fort Apache. Fort Apache. Blasted and ungrateful war department that sends a man out here."
Capt. York: "I bid you welcome, General Thursday."
Lt. Col. Thursday: "I'm not a general, captain. A man is what he's paid for. I'm paid in the rank of lieutenant colonel."
Lt. Col. Thursday: "I call it to your attention that only one of you has reported here this morning properly dressed. The uniform, gentlemen, is not a subject for individual, whimsical expression. We're not cowboys at this post. Nor freighters with a load of alfalfa."
Lt. Col. Thursday: "While some of our brother officers are leading their well-publicized campaigns against the great Indian nations — the Sioux and the Cheyenne — we are asked to ward off the gnat stings and flea bites of a few cowardly digger Indians."
Capt. York: "Your pardon, colonel. You'd hardly call Apaches digger Indians, sir."
Thursday: "You'd scarcely compare them with the Sioux, captain."
York: "No, I don't. The Sioux once raided into Apache territory. Old-timers told me you could follow their line of retreat by the bones of their dead."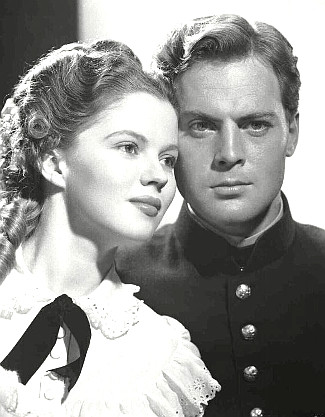 Capt. Collingwood: "You did what you did… rode to glory. I did what I did… wound up at Fort Apache. Well, you've wound up here, too."
Lt. Col. Thursday: "No, by thunder, I've not wound up; not by a jugful! They've pushed me aside, sent me out to this ten-penny post; but they'll not keep me buried. I'll find something."
Captain York: "Were you born in Philadelphia?"
Philadelphia Thursday: "No, Pomfret, Connecticut. I was named after my mother."
York: "Oh, she was born in Philadelphia?"
Philadelphia: "No, Pawtucket, Rhode Island. She was named after grandmother. Grandmother was the first Philadelphia in our family."
2nd Lt. Michael O'Rourke: "Oh, then she was…"
Philadelphia: "No, Provincetown, Massachusetts."
Capt. Sam Collingwood: "Let's talk about horses."
Capt. York: "Colonel Thursday, I gave my word to Cochise. No man is gonna make a liar out of me, sir."
Lt. Col. Thursday: "Your word to a breech-clouted savage? An illiterate, uncivilized murderer and treaty-breaker? There's no question of honor, sir, between an American officer and Cochise."
Capt. York: "There is to me, sir!"
Tagged with:
Anaa Lee
•
Dick Foran
•
Fort Apache (1948)
•
George O'Brien
•
Grant Withers
•
Guy Kibbee
•
Hank Worden
•
Henry Fonda
•
Irene Rich
•
Jack Pennick
•
John Agar
•
John Wayne
•
Mae Marsh
•
Mary Gordan
•
Miquel Inclan
•
Movita
•
Pedro Aremendariz
•
Philip Kieffer
•
Ray Hyke
•
Shirley Temple
•
Victor McLaglen
•
Ward Bond