I am Sartana, Your Angel of Death (1969)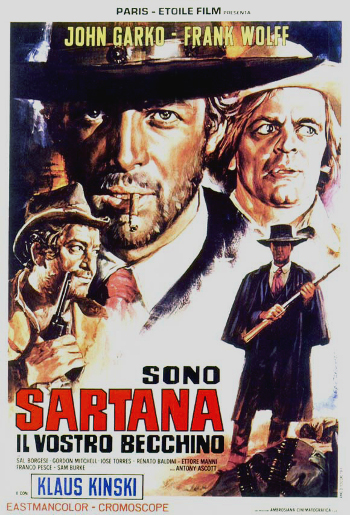 A bounty hunter decked out in black shows up at the North Western Bank, "the safest bank in the West" with his latest catch slung over his shoulder.
It's all an elaborate ruse to rob that bank of $300,000 and blame the robbery on Sartana. After all, one piece of evidence is left behind, the bullet chamber to a derringer, a chamber just like the one Sartana is known touse.
Immediately, authorities put a $10,000 bounty on his head — a bounty big enough to attract all sorts of unsavory characters anxious to collect, including a gambler named Hot Bet (Klaus Kinski) and a gunfighter named Deguejo (Gordon Mitchell).
Sartana (Gianna Garko) quickly realizes something is amiss and joins forces with Buddy Ben (Frank Wolff) to find the people responsible for framing him.
If they collect a few dollars and dispatch with a few of the would-be bounty men in the process … oh, well … it's a small price to pay for clearing the name of Sartana.
It won't be easy. Sartana finds one man suspected of being involved in the holdup hanging dead in his cabin. Another suspect is killed as Sartana's questioning him in a jail.
And the guilty parties are determined to find some way of dispatching of Sartana before he learns the truth.

Review:
The first Sartana film was so successful, it spawned four officials sequels. This is the first of those and benefits from a plot not quite as complex as the original.
That said, the film will keep you guessing as to who was really behind the robbery of the North Western Bank. There are certainly no shortage of suspects.
For continuity sake, Sartana is still wearing his black cloak. He's still carrying that four-barrell derringer, though he doesn't make quite as much use of it this time around. He's still eager to show off his skill with a deck of cards and using them to escape capture in one clever scene.
Wolff, Kinski and Mitchell are among the top billed co-stars, but all three disappear for large portions of the film.
Kinski has the best part of the three, as a gambler who never seems to win. But he also never runs out of money because there's aways another bounty to collect.
Directed by:
Giuliano Carnimeo
Cast:
Gianni Garko … Sartana
Frank Wolff … Buddy Ben
Ettore Manni … Baxter Red
Klaus Kinski … Hot Dead
Gordon Mitchell … Degueyo
Salvatore Borghese … Sheriff Fisher
Renato Baldini … The Judge
Jose Torres … Shadow
Federico Boido … Bill Cochram
as Rick Boyd
Tulio Altamura … Homer Crown
aka:
I'm Sartana … I'll Dig Your Grave
Sartana — Angel of Death
I'll Dig Your Grave
Sartana, the Gravedigger
Sono Sartana, il vostro becchino
Composer: Vasco and Mancuso
Memorable lines:
Female stage passenger, caught cheating with her card-playing partner: "Please, I'll pay you if you don't hurt him. Anything. Don't hurt him."
Hot Bet: "Don't worry, I don't hurt anybody when I shoot. They die. Right away."
Klaus Kinski, after squeezing the trigger, only to have the chamber fall on an empty cartridge: "I always keep an empty. Gives me time to think. I'm somewhat — impulsive."
Hotel owner: "They're all snakes around here. A crummy crew, including me. Even though I'm the only one without a cent. Because of that, they call me a louse."
Sartana: "It's the same thing everywhere. If you're a rich louse, then you're wealthy. If you're a poor louse, you're nothing but a louse."
Buddy Ben: "It's only when he has to face it that he doesn't like music."
Deguego, prior to a saloon showdown: "It's time to go to hell, Sartana."
Trivia:
Tagged with:
(1969)
•
Ettore Manni
•
Frank Wolff
•
Frederico Boido
•
Gianni Garko
•
Giuliano Carnimeo
•
Gordon Mitchell
•
I am Sartana ... Your Angel of Death (1969)
•
I'll Dig Your Grave (1969)
•
I'm Sartana ... I'll Dig Your Grave
•
Jose Torres
•
Klaus Kinski
•
Renato Baldini
•
Rick Boyd
•
Salvatore Borghese
•
Sartana ... Angel of Death (1969)
•
Sartana the Gravedigger (1969)
•
Sono Sartana il vostro beecchino (1969)
•
Tulio Altamura