I Came, I Saw, I Shot (1968)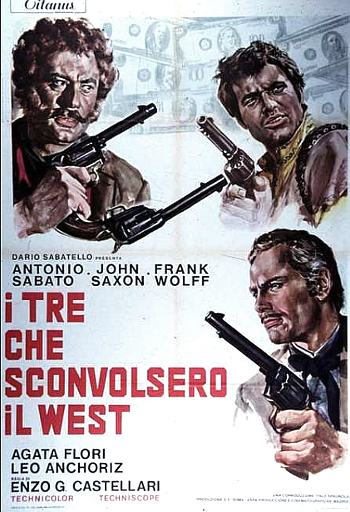 Two partners — Edwin Kean (Frank Wolff) and Clay Watson (John Saxon) — are planning to rob a stage carrying $400,000 to Springwood, but Kean comes up with a plan to keep all the money for himself.
Pretending to be a minister, the small-time actor convinces the driver to take a package of books along on the stage. Inside the books are explosives, timed to go when the stage is halfway to its destination.
Ah, but a small-time bandit named Moses Lang (Antonio Sabato) foils that plan by robbing the stage first. Knowing nothing about the $400,000 hidden beneath the floorboard, he demands the mailbag — the very mailbag that contains the books. And the explosives.
Kean threatens to hang Moses for spoiling his plans. After all, the $400,000 will now wind up in one of the safest banks in the West. Until Moses convinces him that he knows an underground passage into that bank.
True to his word, Moses gets the $400,000 back. And so begins the trickery as one partner after another tries to make off with all the money.
Before long, the quest for the cash also includes Moses' lovely girlfriend Rosario (Agata Flori), a bandit named Garrito Lopez (Leo Anchoriz) and even a henpecked husband (Antonio Vico as Jeremiah Carey) and his bullying wife.

Review:
The title might make you think you're about to watch a Spaghetti serious in tone. In truth, this is anything but.
And like most comedy Westerns made in Italy, it's an uneven affair, genuinely clever in spots, way too over the top in others (like when John Saxon's character turns acrobatic).
One of the better gags comes when Moses has girlfiend Rosita tuck a bag containing the $400,000 under her dress and pretend to be pregnant.
Even she tries to make off with the money. Suspecting something's up, Saxon's character catches up with her and insists on escorting her home.
Whereupon she first fakes labor pains, then blames Saxon for impregnating her when her father and her band of brothers threaten to kill Moses for soiling their sister.
There's an odd ending too, which works if you like truly silly endings.
Directed by:
Enzo Castellari
Cast:
Antonio Sabato … Moses Lang
John Saxon … Clay Watson
Frank Wolff … Edwin Kean
Agata Flori … Rosario Fuentes
Leo Anchoriz … Garrito Lopez
Tito Garcia … Garrito's Lieutenant
Antonio Vico … Jeremiah Carey
Josefina Serratosa … Mrs. Carey
Rosella Bergamonti … Conchita
Jose Maria Tasso … Padre Fuentes
Pilar Vela … Maria Fuentes
Roberto Font … Miguel Fuentes
Leonardo Scavino … Springwood banker
Margareth Horowitz … Widow McGonegal
Rntime: 94 min.
aka:
I tre che sconvolsero il West
One Dollar Too Many
The Three Who Upset the West
Vado, vedo e sparo
Composer: Carlo Rustichelli
Memorable lines:
Card player Bartle to Clay Watson: "You're doing alright, but your luck is going to change. The odds are going to be mine from now on."
Clay Watson: "It's possible. Luck is blind."
Moses: "Que, mujer, you make me feel hungry."
Blonde: "You beast! That's exactly what you say to her (Rosario)."
Moses: "Sure. I'm always hungry. For lunch, I have Rosario. You're my afternoon snack."
Moses, waking up after getting knocked out by Rosario: "What happened?"
Rosario: "Don't you remember? You made me lose my head."
Moses: "Yeah, and you smashed mine."
Jeremiah: "Make me your partner. Take me along."
Moses: "Where?"
Jeremiah: "Where there are pretty girls. Blondes, brunettes. Big ones. Small ones."
Trivia:
Jhn Saxon's only other European Western came more than 25 years later in 1995's "Jonathan of the Bears," starring Franco Nero. A year before this film was released, Saxon earned a Golden Globe nomination for his performance in "The Appaloosa" with Marlon Brando.
This marked the next to last film for longtime actor Antonio Vico, who died in 1972 at age 67. He also had an uncredited role in "Fistful of Dollars" (1964) and played Frank James in "Up the MacGregors" (1967).
Tagged with:
Agata Flori
•
Antonio Sabato
•
Antonio Vico
•
Enzo Castellari
•
Frank Wolff
•
I Came I Saw I Shot (1968)
•
I tre che sconvolsero il West (1968)
•
John Saxon
•
Jose Maria Tasso
•
Josefina Serratosa
•
Leo Anchoriz
•
Leonardo Scavino
•
Margareth Horowitz
•
One Dollar Too Many (1968)
•
Pilar Vela
•
Roberto Font
•
Rosella Bergamonti
•
The Three Who Upset the West (1967)
•
Tito Garcia