The Duel (2016)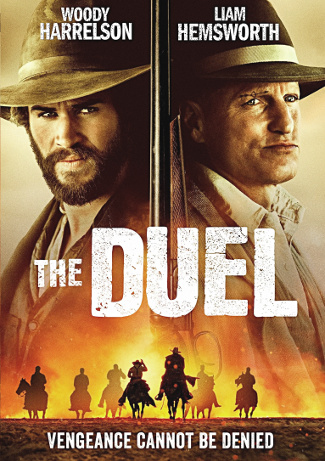 Liam Hemsworth is Texas ranger David Kingston, sent to the small Texas town of Mount Herman to investigate who's killing Mexicans in the area and dumping their bodies in the Rio Grande.
There's an urgency to that mission because the nephew of a Mexican general has been found dead and his niece is missing as well. The governor of Texas fears renewed hostilities along the border if the matter isn't resolved.
So accompanied by his wife, Marisol, David heads off to Mount Herman, a town under the thumb and spell of Abraham Brandt (Woody Harrelson), known as The Preacher. He's the very same man who killed David's father in a knife duel 22 years earlier.
David pretends to be just passing through. Until Abraham offers him a job as sheriff and a pretty whore named Naomi (Felicity Price) tips him off that there's evil all around.
This Texas Ranger is about to find out what she means. Before long, Marisol is under the preacher's spell. The pretty whore is dead. And David discovers a camp of captive Mexicans, used as human prey for the big game hunters who are flocking to Mount Herman.

Review:
Three bullets for making a Western that's not a remake of a Western we've already seen. That said, given all the evil and all the blood-letting, this is a film that just never takes off.
The plot doesn't help. What Texas Ranger takes his pretty wife on a dangerous mission, then repeatedly leaves her home alone when she's clearly tormented by demons of Abraham's making?
And what villainous town boss would offer the rugged stranger who arrives in town the job as sheriff? Then stand by while that sheriff repeatedly beats up his own son (Emory Cohen as Isaac)?
The best scene is when Kington comes unhinged and confronts some of the big game hunters in the local saloon. That leads to one final hunt, and an ending that's as muddled as the rest of the film.
Directed by:
Kieran Darcy-Smith
Cast:
Woody Harrelson … Abraham Brandt
Liam Hemsworth … David Kingston
Alice Braga … Marisol
Emory Cohen … Isaac
Felicity Price … Naomi
William Sadler … Gov. Ross
Christopher James Baker … Monte
Christopher Berry … Dale
Benedict Samuel … George
Giles Matthey … Jon
Raphael Sbarge … Doctor Morris
Jason Carter … William
David Born … Hoot
Lawrence Turner … Silas
Kimberly Hidalgo … Maria
Runtime: 100 min.
Memorable lines:
Abraham: "Forgive my friends, David. Their charming qualities don't shine through at the outset."
David Kingston: "We're a long way from California."
Naomi: "We're a long way from anywhere."
David Kingston: "Why are you here, old man?"
Old man: "Because we wanted to kill something."
Kingston: "Something? Or someone?"
Old man: "Someone. We wanted to know what it felt like to kill someone."
Kingston: "Well, I'm going to let you kill. I ain't even gonna charge you for it."
Abraham, to Isaac and David, as they're about to begin a knife duel: "You shall pour out each other's blood. And we will cover it in dust."
Tagged with:
Alice Braga
•
Benedict Samuel
•
Christopher Berry
•
Christopher James Baker
•
David Born
•
Emory Cohen
•
Felicity Price
•
Giles Matthey
•
Jason Carter
•
Kieran Darcy-Smith
•
Kimberly Hidalgo
•
Lawrence Turner
•
Liam Hemsworth
•
Raphael Sbarge
•
The Duel (2016)
•
William Sadler
•
Woody Harrelson